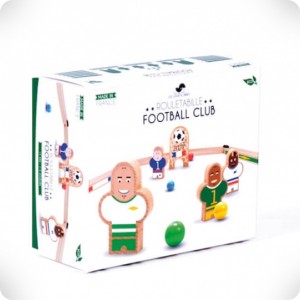 Display all pictures
Roule ta bille
Les jouets libres
by Roman Krajewski
With Rouletabille® France-Brazil Football Club, you will relive the mythical France-Brazil with your children! Will France still be a winner? It's up to you now to win the precious stars of the world champions ...
Description
This circuit of balls is sold in a box collector edition edited specifically for the launch of the game and produced in limited quantities of 1000 copies. This box set is particularly designed to allow children to easily store the game after playing.
Total weight: 1.7kg; Planchettes: W.15cm x H.2cm x E1,2cm; Figurines: L5cm x H7cm x E1,2cm; Panels: L6cm x H10cm x E1,2cm.
Composition
Staples: 24
Stickers: 13
Balls: 8
Box set collection: 1
Wooden figurines: 11
Wooden panels: 2
Wooden boards: 24
Organic cotton bags: 3
---