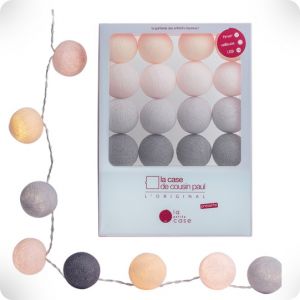 Display all pictures
Night light garland Lili
La case de cousin Paul
Garland The small box "Baby Collection" of 16 balls in polyester thread 5.5 cm in diameter, the balls are pre-cut for easy assembly.
Transparent cable The small box of 16 LEDs: length 1.50 m from the first to the last LED plus 1.50 m from the transformer to the first LED, 10 cm between each LED.
USB transformer, dual function switch: 3h timer mode and night light mode (2 light intensities: 100% and 50%).
Each LED is equipped with a small plastic skirt that keeps the ball perfectly on the garland.

Ball colors: lychee, orgeat, dove, gravel
Diameter of the balls: 5.5 cm
The assembly instructions are printed on the box.
Indoor use.
---